Kennet is a small town in which the story of Pale is set.
Geography/Description
Kennet is located in Western (Northern) Ontario, within sight of Lake Superior.[1] It is a small town with a population of about 5,000.[2][3] Kennet was founded in 1935 as a company town and grew over time.[4]
The western side of the river is mostly residential[5] and run down,[3] while the south-eastern side is more varied[6] with wide spaces between buildings,[7] it is the former industrial area.[8] To the south are hills, cliffs, and forest.[9]
The urban center of Kennet, where Goblins cannot tread, is somewhat mazelike due to having grown up unplanned over time.[10][7]
Map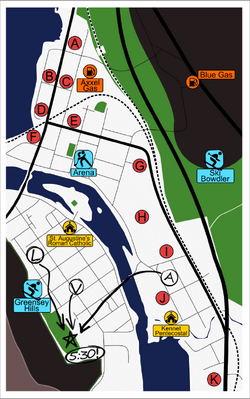 A. Monte Motel & Restaurant
B. Beer Market
C. Ontario Liquor & Cannabis
D. Bon Journee Inn
E. Kennet Cinema
F. Kennet Museum
H. Hospital
I. St. Victor's High School
J. Wavy Tree Yoga & Dance
K. ATV & Dirtbike Rental
Points of Interest
Concrete stairs lead up the mountain to Blue Gas, choked with litter from teens going up to the gas station.[11] Louise Bayer's house was up the road from the gas station, overlooking the town,[12] as is that of her neighbours Tom and Arnold.[13]
The Kennet Cinema has to close in summer due to lack of customers.[2]
There's a single wide bridge between the two halves of Kennet, with road, sidewalk, and street lamps built into the railing.[5] There's a corner store next to it.[14]
The Kennet Arena is the second-largest building in town, after the Hospital, and is active almost constantly. It's nicknamed the K-A.[15] During the winter, it serves as a naturally frozen outdoor hockey rink.[16]
After the Carmine Exile took the throne he created the Kennet Undercity, an inverted knotted version of Kennet filled with violent and unruly individuals.
Residents
Kennet Others

Original members: Sir Toadswallow, Miss, Matthew Moss, Alpeana, Gashwad, Cherrypop, Guilherme
Probationary/half members: Reggie, Cig, Freak and Squeak, Goblin gang (Butty McButtButt, Ramjam, Nat, Doglick, Kittycough, Bangnut, Tatty Bo Jangles, Biscuit, Peckersnot

Residents of the Undercity: Bitter Street Witch, the

Vice Principal

, the

Foreman

, the

Family Man

, the

Stuck-Arounds

, etc.

Perimeter spirits

: Engine Head,

Unveiled Skullbone

, Lott,

Blushstroke

, Smoulder,

Boughbreak

, Dish, Footspur, Legs, Long,

Nyeh

, Borrador, Grabsy,

Scatters

,

Florescence

Carmine conspirators: the Carmine Exile, Lis, Edith James, Bluntmunch, the

Ephemeral Bird

, Bridge, the Dog Meat
Dog Tags:

Grandfather

,

Doe

,

Pipes
Chronology
Before
Had an industrial background before becoming a winter resort town.
Summer Squabbles
It became the new seat of the Carmine successor making any travel to the small city at least a day.
New Normal
After the rise of the Carmine Exile Kennet started losing it's human population and this population loss was roughly balanced by population gains by the Kennet Undercity.
References