Avery Kelly is one of the protagonists of Pale.
Personality
Rarely aggressive. She is arguably the most moral of the trio and is usually the first to leap to someone's defense.
Gay; tends to be attracted to women who are "a healthy size".[1]
After her time in the Forest Ribbon Trail, she seems to be unwilling or unable to eat meat.
Avery expresses great loneliness, and is eager for friendship and love. Maricica tells her that there are currently three people in Kennet who could return Avery's romantic yearnings, but none are meant for her.[2]
Relationships
Recent friends. They share interests in art.
Recent friends. They argue about decisions frequently.
Ms. Hardy
She's described Ms Hardy as her "role model" and "favourite person".[3] Avery has a crush on her teacher, having an idle fancy of dating her when she get older.
Pamela
Lucy and Verona tease her for liking Pamela O'Neil.[1]
Avery uses glamour to become a boy, in order to talk to Pamela, and ends up kissing her.[4] Lucy and Verona convince her that she shouldn't do this again, because it may put Pamela in danger.
She has kept her distance since, and comforted Pam after Maricica harrased her using the glamour. She even confessed her feelings to her.
Avery lives with her family; at the start of Pale, she hasn't told any of them that she's gay. They started to start finding out around the summer.
There are a total of 8 people in the house: Avery, her grandfather ("Grumble"), her father (Connor), her mother (Kelsey),[5] her older brother Rowan, older sister Sheridan (16), younger brother Declan (10), and younger sister Kerry (6). Grumble suffered a stroke some time ago, and never fully recovered.
Life in the Kelly house is loud and chaotic, with her siblings constantly arguing with her and with each other, taking or messing with her possessions, blocking her in narrow hallways, etc.
Avery's boon companion from the Forest Ribbon Trail, a young opossum/girl Other. Avery and Snowdrop share a great deal of affection and trust.[6]
Appearance
Avery is pale, with freckles along her face and arms and strawberry blonde hair.[7] Her eyes are blue-green and she has a slightly upturned nose.[8]
She tends to wear sporty, brightly-colored clothing. She often wears her hair in a ponytail, especially early in Pale.[8] She's between Lucy and Verona in height.[9]
As a practitioner, Avery wears a deer mask that was created for her by Verona, as well as a witch's hat made by Lucy and cloak she made herself. The mask is well-made, carved from wood, with tan paint on the nose and eye-holes and darker brown specked paint at the edges and ears.[10] It has short antlers. The hat and cloak are navy blue; the hat has a pointed brin with holes for the short antlers of her mask, and the cloak resembles a cape covering one arm with a wreath around her neck.[11][8][12] Once acquired, she wears a magical charm bracelet around her wrist and magical dog tags as "decoration" attached to her cloak.[8]
To the magically perceptive, her eyes glow a misty green when she uses her Second Sight[13] and the black of her pupils is exaggerated.[14][15][16][8] In certain magical contexts, her mask appears real, as if she has the head of a deer.[11][17][18] One antler of the mask was broken and that has carried over into her appearance with Sight. Interestingly it can be placed where it once was and hover there.
Abilities and Art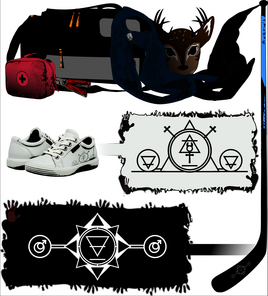 In addition to the shared abilities and gear of the Kennet Trio, Avery has several magics unique to her:
With her own distinctive Second Sight she can see white ribbons or photographic film representing (some) Connections,[19][20] and has discovered that she can physically interact with them to jerk targets around.[citation needed] She also sees handprints and footprints, while areas without the handprints or footprints have fallen into neglect.[21] The world of her Sight is darker than the real world and filled with mist.[22] Her Sight is somewhat nearsighted, making it hard to see connections to people near her.[23] Movement is highlighted, with things reacting to it more (bits of dust and debris, the mist etc.)[24] Lucy's Implement seems much larger and more complex to Avery's Sight, covering and surrounding much of her head.[25] Deer-like actions and quirks are easy to come by for Avery such as bounding over walls and fences, navigating vegetation without issue, or her shift into veganism.
She's also been taught a glamour by Guilherme as his gift to her, where she can use small amounts of glamour to "reinforce" victories and move her closer to her ideal self. She doesn't seem to have shared this technique with the other two.
She's performed a couple of basic Finder rituals, and apparently has been marked out to the universe as a Finder, making her interactions with that Practice more effective. As a consequence of walking the Forest Ribbon Trail, portals and pathways open faster for her. Zoomtown also won her supernatural skill at driving, running, riding etc. at the cost of annoyance when she can't drive (which is pretty much always, being underage.) Her Finder explorations have also won her the eternal friendship of Snowdrop.
She has a Finder's practice that gives her coins in exchange for turning down a trip, experience or journey, they can then be spent to make travelling through other realms easier. With a chance of encountering Lost or the trip to become more intense.[26]
Basics
Tools
She has taken to using the trio's training in Runes to create some basic magic items, shoes which let her jump further and hockey sticks which hit extremely hard (although they tend to shatter after a few uses.)[13][29]
She has taken to using the trio's training in glamour to shrink down her magical gear into charms which can be carried around on her charm bracelet (a gift from a friend who moved).[30][13]
She has a Finder item given to her by Miss; a Black Rope which lets her teleport short distances when unobserved. She can also tell from the roughness of the rope when she's being watched (and thus it's usable), although this is a little unreliable. Was gifted a pair of gardening gloves on the Promenade Path which allow her to send items to an undisclosed location and summon them back when clapped. The items reappear a bit beat up.
She was given a metal Pin by Ken that tells her if she's attuned to a place and helps her with City Magic.[31]
Avery received an 'official' Finder kit during negotiations with the garricks, getting a blowdryer, Eyeliner, glass crowbar, Stapler and yo-yo.[32]
Chronology
Arc 1 - Lost for Words
Avery and her friends were brought into the world of the practice in order to investigate the mysterious death of the Carmine Beast. Her Personal Item was an unfinished doll she had knitted for her younger brother.
After participating in the awakening ritual with Verona and Lucy, she went on a road trip with them, as well as Matthew Moss, Edith James, and Charles in order to visit the home of the Carmine Beast.
After the trip, Avery returned home, and had to deal with her extremely crowded and uncomfortable family situation. She pulls on a connection between herself and her mask after her brother takes it in order to retrieve it, then draws a symbol on her table to make herself unnoticed by her family. She leaves the house to meet with Lucy and Verona. The trio are approached by Sir Toadswallow and Cherrypop, who offer to teach them how to make curses count.
As part of their duties to Kennet the trio interview the Kennet Others about the murder and in turn recieve gifts from each, with one exception. The Hungry Choir evades communication and attempts to trick Avery into entry. During the next ritual the girls interfere, and Avery steps up to rescue some of the contestants from the Waifs.
Kennet comes under scrutiny from outside Practioners. The trio use Nettlewisp to blind the Augers of the Blue Heron Institute.
Avery prepares to run the Forest Ribbon Trail, having recieved instruction from Miss. Entering the Path involves wrapping Avery and an animal in ribbons - cat Verona is able to find a baby opossum. Avery enters the trail and finds the opossum has become a young girl. She names her Snowdrop.
Snowdrop struggles to guide Avery through the Path. Avery realizes Snowdrop's rule of discourse and grows some confidence. Her meeting with the Wolf is interupted when Nicolette Belanger interferes in revenge for the Nettlewisp. Avery is trapped on the Path alone with the Wolf. Miss is able to stave off the Wolf, and the Kennet Others negotiate with the Belangers to free Avery and enroll the trio into the Blue Heron Institute.
The trio study at the Blue Heron, but make enemies with some of the students and faculty.
The trio briefly return to Kennet to protect it from Lawrence Bristow's Aware.
Avery is pulled into brewing conflict at the Blue Heron between the two headmasters. Her kindness to Clem proves to be Bristow's downfall.
Returning from the Blue Heron, Avery's parents announce that her mom will be moving to Thunder Bay for work. Avery stays in Kennet with her dad, Grumble, and younger siblings. Her home life wears on her after her Dad lets Declan's misogyny fester. She decides to move to Thunder Bay but keeps it secret from Lucy and Verona.
The trio solves the murder and confront the conspirators, but are unable to prevent Charles Abrams from killing John and claiming the Carmine seat. In the immediate aftermath, Avery confesses that she's leaving.
Post-Carmine Contest
Avery relocates to Thunder Bay for the fall semester, moving in with Sheridan, Rowan, and her Mother. Avery is quickly approached by Ann Wint and Deb Cloutier, and requests a meeting with the Lord of Thunder Bay, She Who Drowns in Moonlight. Avery gifts three elemental items and is granted stay.
The girls begin to find their feet in the fallout of the Carmine Contest. Avery resolves to find allies and solidify existing raltionships, seeking to prevent the external complications that threw Kennet into chaos.
At school, Avery joins the lacrosse team and splits her attenion between new friends Jeanine and Nora. The Thunder Bay Council begins using her for errands, and by the Lord's personal request Avery spies on councilmembers to determine their alleigence to Abraham Musser. Avery begins to feel that she's taken on too much and looks for opportunities to combine responsibilities.
Verona visits Thunder Bay to see her mom and help out with Avery's spying. They release several of the bound Lost that Avery had recieved from the Garricks, using their assistance to monitor the Thunder Bay Council. A disguised Avery and Verona interfere when Thea tries to harm some local kids. Thea traps them in her vault, but they're able to escape and steal Thea's power source in the process.
Avery determines that Thomas Whitt and Hugh Legendre are working with Musser against the Lord, and that they're bringing guns into Thunder Bay. During a visit from Liberty Tedd Avery discovers that Anthem Tedd is involved with the sale. She fails to tell Liberty. Avery runs the Build Up with Liberty and Jude, and fulfills a promise to the Tearaway Kid. While hanging out afterwards Liberty pushes Nora into confessing her feelings, and Avery and Nora start dating.
Fan Art
References